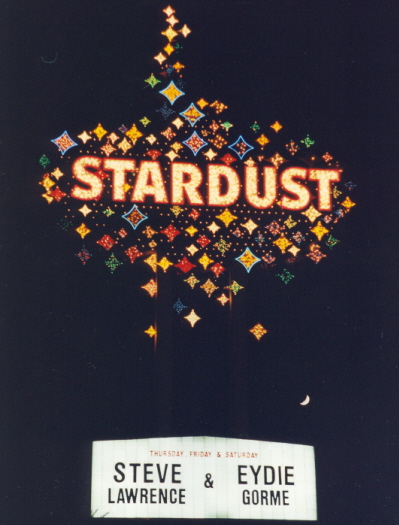 (click on picture to enlarge)
BLOG...
Well, time flies when you're having a good time. It has been a while since my first blog…with good reason.
We were preparing a very special show which would be our very last forever at the legendary "Stardust Hotel".
"The Stardust" is the very last of the original Las Vegas landmark hotel/casinos' featuring a vast array of spectacular entertainment through the years including of course...
Steve

&

Eydie

Lawrence

Gorme
We performed our last show last Saturday night and thousands of people came to see us and witness the end of an era. It Was Fabulous!
Many famous and noted personalities were in the audience together with our great, and loyal fans who travelled so very far in order to share this special time with us and enjoy the closing shows. Thank you everyone for all your great e-mail and your flattering comments and 'Killer' reviews. 'Wow'!
In addition to the great music, and hysterically funny moments... Steve directed a few witty remarks toward
Boyd gaming chairman 'Bill Boyd', our boss at the Stardust.

Steve quipped: "Well, we're closing another hotel…that's what we do…We've closed more hotels than Steve Wynn has built"! Then he shot a quick glance and grin to Boyd and said…"We have to rush through this show because Mr. Boyd has a wrecking ball out in the parking lot".

The hotel is already closed and ready for implosion.
'BOOM'! As far as our plans for the future, we will let you know soon
For all who have asked about our Las Vegas history and all the places we've been and performed and when it all began… I will tell all in my future 'blogs'…so of course…

STAY TUNED…
EYDIE G.
- - - - - - - - - - - - - - - - - - - - - - - - - - - - - - - - - - - - - -